I know a lot of intelligent people. A few of them are geniuses. I'm not one of those people who considers myself to be exceptionally smarter than anyone else. However, I also know that I'm not necessarily the dumbest person in the room either.
I've always wondered what makes one person so much smarter than the next. I'm also wary of the one who brags about how much they know, or how talented they are. Those are the two things that you don't have to prove if you've really got them.
By now, you've probably established a close group of friends. Each one brings something different to the table. And there may be that one girlfriend that to a certain degree is smarter than everyone else. Therefore, anytime one of the others need advice, they always consult her.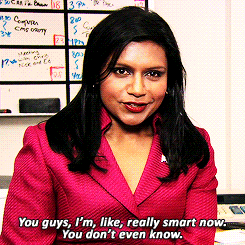 But, what makes that woman more knowledgeable than the others? Is it because she graduated from a top school in the country? Yes, that helps, but as it turns out, there are many qualities an intelligent person possesses. Genetics also plays a role. Some studies suggest that about 50 percent of the difference in intelligence between people is due to genetics.
So, if you look at your family members and realize that most of them aren't exactly the smartest kids on the block, do you feel doomed? You shouldn't and here's why.
I've come in contact with many people from around the world. And the one thing I've noticed is no matter where a person is from, experiences coupled with a hunger to learn (curiosity) can totally transform one's mind.
If you have experienced things that no one else has, you ask a lot of questions or have even taken courses at work lately that seemed insignificant at the time, but actually taught you something new, you're smarter than you think.
Almost daily I hear women over the age of forty talk down on themselves because they feel they don't have this or can't do that. Truthfully, I find myself doing the same thing at times. But then, I realize that there are specific skill sets I possess that others don't. Not only that, but I know that learning is a lifelong process.
#ComparisonSucks
I believe that if we focused more on what we are rather than what others may be (let's face it, some people are imposters), we just may discover that we are the "smart friend"! The goal isn't to be smarter than other people; it's for you to be smarter today than you were yesterday.
So the next time you feel like you lack in the smart-girl department, compile a list of your skills, knowledge, and talents. If they aren't where you want them to be, take measures to improve. But never let anyone make you feel less than and certainly don't do it to yourself.
All the best, always.
Tyffani